custom patches
A complete guide to custom patches for universities
|
Oct, 10 , 22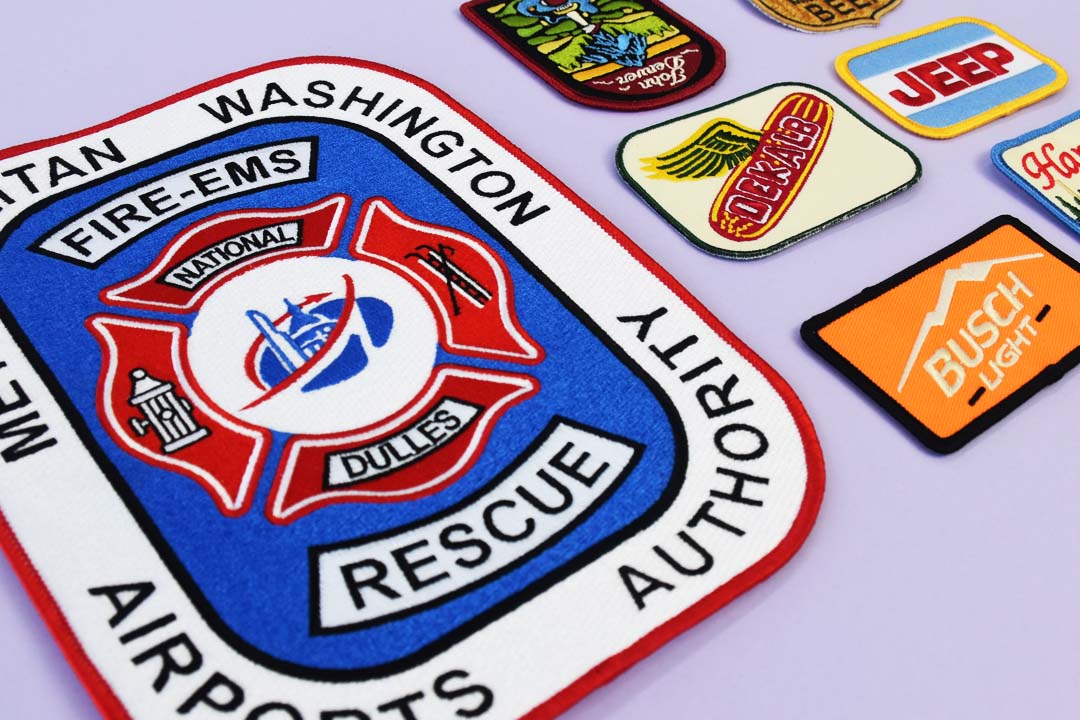 We see custom patches on clothing, bags, and even shoes and think they are fashionable, but it is not always the case. They used them for practical purposes like covering holes in clothes or labeling uniforms for a long time. Now we have various functions, including marketing, advertising, and expression. Students try to find themselves and their place in society. They use them like small billboards to show their personality and stand out among others. Sure, there are various ways to stand out, but
custom patches
 are an effective option that does not cost much. The history of college custom patches goes back to 1865 - the Harvard baseball team started the trend by adding the letter H on their jerseys.
Custom patches for college:
College is synonymous with fun, sports, festivities, and clubs - drama club, sports clubs, debate, study, fraternity/ sorority, etc. It started with the goal of bringing like-minded students together and growing. However, they serve many other purposes, like networking. A student that belongs to a particular house has a higher chance of getting the job when alums are in that company. The sorority/ fraternity bond sticks for life.
Custom patches
 are a huge part of these clubs - students wear them to show their belonging to a specific one.
Most college organizations do not have the funding to market, and because of this, they require students to help. Since custom patches are budget-friendly, it helps a lot. They contain the college/ university logo, emblem, mascot, crest, colors, etc. Many colleges use generic patches, but they do not look good; it is better to customize them. You get the freedom to create per your budget and other vital requirements, are better in quality, and last a long time. College patches are close to hearts because it reminds them of all the remarkable memories and experiences - you do not want to compromise on the quality.
What are the uses of college patches? 
Some colleges have a single patch to represent the whole college. But, most of them have patches for specific teams, groups, or clubs within the college. The patch design varies depending on the purpose, history, tradition, audience, etc. Some patches are permanent; they don't change. But, you can create a new patch for events, achievements, new clubs, etc. Some of the popular uses for custom patches:
University sports teams:Custom patches for varsity teams have a rich history, as mentioned earlier, and are lovely for team members and fans - they give a personalized touch to the team uniforms and help fans to express their support. Many colleges also use them to raise money for better facilities for the team by selling at concession stands. It also gives community members a chance to contribute.
They are famous in basketball, football, baseball, track and field, hockey, swimming, etc. When designing a college sports patch, incorporate the sports symbols, school colors, year, team mascot, etc., to make them memorable. Commemorative patches are a unique way to celebrate the team's accomplishments. Distributing them at events is a sure way to get more support for the team.
Sororities/ Fraternities: with over 9 million people and 750,000 undergraduate college students, US colleges boast one of the largest sororities/ fraternities worldwide. The patches help connect the members that last a long time - it helps with networking on and off the campus. College students search for themselves and their belonging in the real world - patches provide a sense of identity and being part of something greater.
Incoming students:When students are about to enter college for the first time, they are excited and feel various emotions. Custom patches are a way to make them feel welcome and calm their nerves. They also show more school spirit than others by decorating their bags, apparel, hats, jackets, jeans, etc. Hand them out or sell them at a bookstore.
Clubs:As mentioned above, colleges have various clubs like academic, political, media & publication groups, cultural, theater & arts, sports & recreation, etc. Each has its unique identity, and custom patches help express the same. It also acts as an advertisement for the club to attract new students to campus.
The

alumnus

 are vital for the college; they can help with funds, jobs, mentorship, etc. Handing out or mailing custom patches to them helps with the continued support of their alma mater. They keep and cherish them for life.
Popular patches:
Drama and theater patches are a helpful way to show participation in clubs, theater leagues, musicals, and other performances. It gives you a chance to show your creativity and imagination. The regular size ranges from 3" to 5".
Shape and panel patches serve as blank canvases for any accomplishment. The common themes are circles, stars, shields, ID panels, etc., with musical, academic, or mascot inserts.
State patches: They use them for showcasing tournament appearances, successful seasons, and winning the state title or championships. The design includes a state map with other elements of the college.
Number patches: these are helpful to display numbers, positions, weight classes, etc. The most common type is Chenille patches - unique in their velvety feel.
Graduation patches help students to display their graduation years proudly.
Academic patches help recognize scholastic achievements and have been used for years. The design elements include torches, lamps, scrolls, etc., with the school's name.
Mascot patches: contain the school's mascot and are the same for everyone on the campus. They are lovely to display the school's spirit during competitions.
Rhinestone patches are helpful to pop and get noticed. People use them for sports and cheerleading teams - they also work well for students' names.
College patches placements:
While there may not be an official spot for every patch, there is an art that can make them look remarkable. You don't want to place the patches haphazardly; doing so can cause a jumble of letters, numbers, and symbols. Remember that you have worked hard, and you must display them proudly.
Right front panel: It is reserved for the team's name traditionally.
Left front panel: the school's patches go there along with sports or extracurricular activity patches. As you earn more patches, you can stick them in a row. However, you can also be creative with them.
Right sleeve: the graduation year patch goes here. As you earn patches for academics, activities, commemoration, etc., you can arrange them on the sleeve. If you run out of space - place them on the left sleeve.
Left sleeve: Sports patches go over the side along with Chevron bars.
How to sew on college patches:
Many first-timers don't know how to sew the patches. Keep a few things in mind before and attempt only when you have confidence in your sewing abilities.
Sew by hand: It is one of the easiest methods and does not require many skills. Use a heavy-duty sewing needle and a strong thread like polyester or nylon. Choose a plain string or a color matching the edges of the patches. Start in a corner and use back-to-front stitching.
Sew by machine: If you have a sewing machine and upholstery thread, then use it. Sew the entire perimeter, starting at a corner. It requires a bit of skill and limits you to the parts of clothes that the machine can reach.
Try local resources: if you don't want to ruin the patches and apparel. Sewing and alteration specialists at tailor shops offer the service at a low cost.
Create college patches in three simple steps:
Create a design by keeping all the school/ college elements you want to include. Convert the design into a JPG/ PNG format. Colleges have many talented students who know about design; take their help.
Choose the patch and backing: They will determine the look, feel, and overall quality of the patches. The popular types are:
Custom embroidered patches provide a classic textured look with thick threading and fabric backing and are the most popular type of college patches.
Custom woven patches have a bold and textured look with tighter weaving.
Custom printed patches allow for a photorealistic design and endless color options with multicolor fabric screen printing. It is the latest type of patch.
Custom bullion patches give a bold look with durable wire stitching and sturdy fabric.
Custom chenille patches are famous for letterman jackets.
Custom leather patches give a classical vibe; faux leather has become popular these days.
Custom PVC patches give a three-dimensional look with durable rubber. They can withstand water, dirt, etc., and last for years.
Backing:
Iron-on: They are easy to apply and useful for events or temporary.  
No-backing: patches are thin and flexible.
Velcro hook backings are useful for college scout clubs.
Adhesive backings are helpful for fast application and are temporary.
College years are some of the most precious and memorable and deserve custom patches to match them. You don't want to settle for generic ones from a less-than-reputable manufacturer to save a few bucks. Connect with an experienced and reliable supplier. EverLighten has helped startups, large organizations, sports teams, colleges, universities, scouts, firefighters, police, the military, etc., for eighteen years.
The Rock Mountain College, founded in 1878, is the oldest and one of the most reputable art institutions. Their Theatre Arts Department contacted EverLighten for custom embroidered patches for their students. Since the design was too complex with a small order size, several manufacturers did not accept it. EverLighten likes to help everyone - we agreed and went into sample production. But, our experts found that it wasn't possible to create the exact design because of manufacturing limitations. So we advised for printed patches. They were hesitant at first but were convinced after we explained everything. We created a sample for comparison, and they were happy to see the quality. After getting approval, we delivered the patches on time.
https://everlighten.com/blogs/success-stories/rocky-mountain-college
Benefits of working with EverLighten:
Best pricing: We are a dedicated factory for producing custom patches and not intermediaries; customers always get the best price.
Quality without a compromise: We use premium-quality materials and the latest processes.
Fast turnaround time: We provide the quickest delivery for every order.
24*7 support: you can contact us anytime; our team provides round-the-clock support.
Real people, phenomenal service: EverLighten loves helping and offers various options for every item.
Free design help and unlimited customization: the custom patches will look as you imagined; we provide endless customization.
No MOQ requirement: you can order as many patches as you need; we accept orders without a minimum limit.
Worldwide shipping: we deliver worldwide; customers can track their orders anytime with an order tracking tool.