A complete guide to custom embroidery for promotional merch
|
May, 03 , 22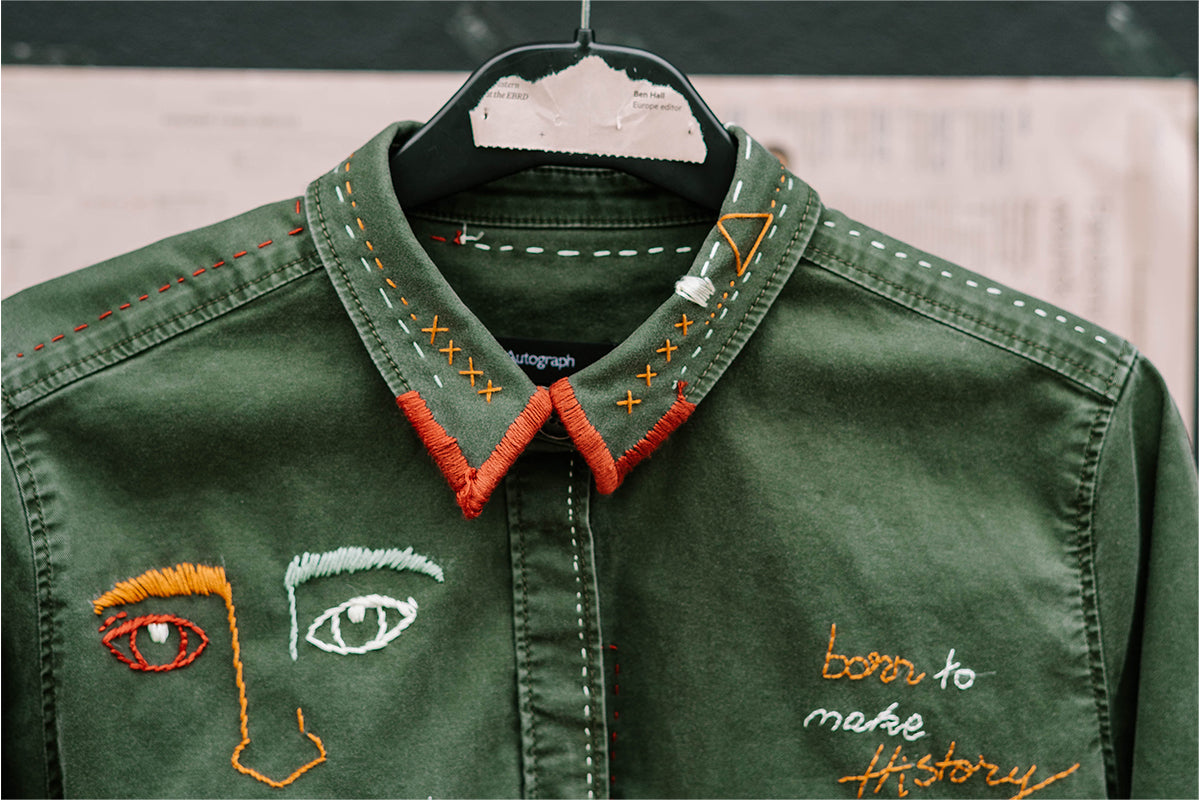 It is no secret that history and fashion repeat themselves. While some trends are better left in the past - like the floral shirts/ t-shirts or baggy pants - there are times when it comes back for the better. Custom embroidery and embroidered apparel are making a comeback and growing in demand. From high-end to casual clothing, you can see custom embroidered merch on every nook and corner of the city. If you are a business or organization looking for ways to create promotional products, you can leverage embroidery to connect better with people. Despite the technological advancements, it takes more time for custom embroidered merch creation when compared to regular merch created using screen printing. But, there are other benefits that you can't ignore. In this blog, you will understand every nitty-gritty of embroidery for merch to make an informed decision. 
What is custom embroidery? 
Embroidery has been a popular decorating method for garments for a long time. The logo or design is sewn directly onto the apparel using threads and needles. The process was done only on soft fabrics like t-shirts, shirts, socks, etc.; with hands, but with machines, embroidery can be done on more rigid materials like hats, hoodies, jackets, bags, etc. The embroidery cost is directly proportional to the number of stitches in the logo. 
Benefits of using embroidery for merch:

 
It is difficult to stand out in the sea of competition; you have to search and try various methods to get the results you are looking after. Custom embroidery provides many benefits: 
Better advertisement:

Custom embroidered merch is terrific for a business to get in front of everyone in a better way. It looks classy and acts as a walking advertisement. When most companies use regularly printed merch, imagine the attention you will get after using embroidered products. Instead of making your employees wear plain t-shirts with your logo, why not use embroidered t-shirts? People can see your effort, so go the distance with embroidery items. 

Uniqueness:

How many businesses have you seen using embroidered products for promotions? Not many would be our correct guess because not many use these. It is a chance for your business to be unique. The process also provides you complete control over the design you are looking for and creates a 3D look. 

Professional look:

Embroidered apparel is high-quality and looks more professional than regular merch. The logo seems terrific, and it raises the standard of an everyday uniform. 

Durable:

An embroidery design is more durable than traditional logo printing. It stands heavy laundering on high temperatures, and the colors don't fade even after hard-wearing. Often the color of the apparel fades before the colors of the embroidery. 

Brand highlight

:

Custom embroidery merch makes a better impression regarding brand highlighting. You can use various embroidery gradients or specialty threads to make your logo seems unique and give your company's name the acknowledgment it deserves. 
High-quality:

Custom embroidery for logo creation looks and feels higher-quality compared to the regular stuff. Most of the threads used in the process have a sheen on them that helps to make the logo eye-catchy. 
Supplies and equipment needed for embroidery:
Now that you know the benefits of using embroidery, let's check out the process. 
Embroidery machine

:

It is the prime component of the process; the machine comes in various sizes. The larger machines have up to 38 heads and contain fifteen needles. 
Hoops or frames:

It is used to place and hold the fabric before placing it on the embroidery machine. The machines move these and create the logo/ design you need. 

Threads:

Various threads are used as per the colors requirements of the design. 

Computer design software:

The design is created on the computer, and it previews the logo before transferring the design file to the machine for the actual process. 
Step-by-step process of embroidery: 
Design creation

:

The process begins with creating a logo design; graphic designers create the design. You need to consider the number of colors, needles the machine can accommodate, and your budget. The more the number of colors, the greater the money required. If you don't have a design ready, don't worry, there are manufacturers like EverLighten

with a team of in-house designers helping to bring your design to life. 

Saving the logo design:

The design file is saved in the machine-readable format; different machines understand different file formats. E.g., a Barudan machine and Tajma machines understand DSB and DST file formats, respectively. You don't have to worry about these when you partner with EverLighten. 

Transferring the design:

The file is then transferred into the computer controlling the embroidery machine. 

Instructing the machine:

The process is similar to teaching a machine what the needles, threads, and orientation required. Each needle has a number, threaded with a different colored yarn. The embroidery sequence is scheduled because the machine can use only one needle at a time. 

Product lineup:

The fabric is stretched tightly across the frame and slotted into the embroidery machine arms. It is essential because it is the part of the machine that moves and not the embroidery needles or heads. 

Stitching:

After everything is set, the process begins; the machine can have 1 to 38 embroidery heads and each head with up to fifteen needles. The machine runs until the design is complete. 
Some of the mistakes and tips to avoid during custom embroidery: 
Creating your custom embroidery can work wonders for your brand; however, people fall trap to these mistakes: 
Poor sizing:

It is the most crucial factor ruining your design output. Two of the most common mistakes are mismatched design and fabric materials. The size of the fabric will depend upon the size of the design. And the design appears different from where it is created. E.g., the same logo will appear smaller on a t-shirt and bigger on socks; you have to make a different size logo for each merch. Square and circle designs look better when they are smaller in size. 

Logo design and lettering:

Many people don't understand the importance of design and lettering for making an impression. It is crucial to place the logo in the apparel's correct position. Failing to do so can reflect a poor image of your business; no one will be entertained when the logo is not centered or upside down. One of the common errors to avoid is placing your logo on the belly of t-shirts, hoodies, jerseys, etc. 

Poor quality fonts:

Typography is the design's visual aspect, while the font is the text. You need to choose a font and design that is attractive and easily readable. Companies mistake creating a good logo only to selecting a hard readable font; you want people to take a look and understand what's written. You also need to be consistent everywhere and not use a different font for each merch; it can confuse people. 

Image quality:

People often send low-quality images to the manufacturers, resulting in hard-to-designed logos. The machine needs a picture of 200 dpi and above to create a high-quality logo; the higher, the better. 
Things to consider when creating custom embroidery items: 
Product selection:

You can choose any product for your embroidery; it is advisable to use heavier garments like jackets, sweatshirts, heavier t-shirts, socks, etc., to hold the needle stitching. It is not recommended to use polyester or blend because they stretch and make the logo disproportionate. Lightweight garments are suitable for smaller logos; reducing the size prevents puckering. 

Threads:

Choosing the threads according to the fabric is vital for a beautiful logo. Several threads are available like floss, pearl cotton, metallic, wool, Persian yarn, silk, knitting yarn, etc. It would help if you worked with the manufacturer to choose the best thread for your apparel; EverLighten provides expert help to simplify decision-making. 
Glow in the dark thread:

These threads store light and glow in the dark with a slight greenish glow. It is soft on the skin and helpful in emphasizing a single part of the design. E.g., outdoor or sportswear. 

Transparent thread

:

It is a specialty thread initially developed to fix cords and sequins. You can use this thread to highlight within a thread-mix design or filigree embroideries. 
Reflective thread:

It is a new kind of thread that reflects light. You can use it to add sparkle to the design. 
Stitch count:

The number of stitches in the logo depends on the logo size and the details you want to incorporate. It also affects the cost of the merch. 

Simplified design:

Before logos can be embroidered on the merch, it is converted into a machine-readable digital file - as discussed above. Some logos require simplification for the process because the thread cannot replicate the effects like gradients, halftones, or some ultra-fine details. 

Following guidelines:

For the embroidery to be excellent, you must follow the manufacturer's guidelines. 
Popular items for embroidery:

 
It is possible to get embroidery on any product; however, these are some of the most products to get your embroidery logo. 
T-shirts: Custom t-shirts

might seem like an essential item, yet, it is one of the most versatile for brand promotions. A high-quality polo t-shirt is perfect for embroidery; you can create for targeting various types of audiences. 

Jackets:

While t-shirts remain the number one choice, embroidery and jackets go hand-in-hand. Since denim doesn't work well with printing, it is ideal if you want to create promotional jackets. They will make a brand impression for years, thanks to their thickness and durability. 

Hoodies: Custom hoodies

are another suitable product for logo embroidery. They are ideal for brand promotions in the colder regions or weather. 

Socks:

When people think of embroidery, they don't often pay heed to socks, but they are one item people need in every weather and many activities. You can target various types of audiences using

custom socks

. 

Hats

:

A hat is one of the most noticeable accessories to promote your business using embroidery. There are many hats you can choose from

dad hats, trucker hats

,

baseball caps

, etc. With the embroidery, the logo becomes attention-grabbing. 

Tote bags:

People often use embroidery on the items mentioned above, but adding items like

tote bags

can make your brand stand out easily. 
Conclusion: 
The logo quality depends upon the types of apparel, threads, and the manufacturing process. It would help if you had a manufacturer with expertise, experience, and technology for the embroidery logo. EverLighten has been creating custom embroidery logos for over eighteen years. They have helped many organizations, nonprofits, sports teams, universities, celebrities, and individuals make their embroidery logo items in over twenty-three countries. 
Best pricing: They provide factory-direct pricing because they own a factory and are not intermediaries. 
Quality in every product: They use top-quality materials and the latest processes to produce items. 
Real people, fantastic service: EverLighten loves helping; each customer gets help from design to delivery. 
Designs to impress: With their in-house designers, the design in your head is brought to reality. 
No minimum order requirement: You can order any number of products you need; they accept every order without a minimum limit. 
Worldwide shipping: They provide worldwide shipping with order tracking. 
For more information, queries and designing, visit EverLighten.com.