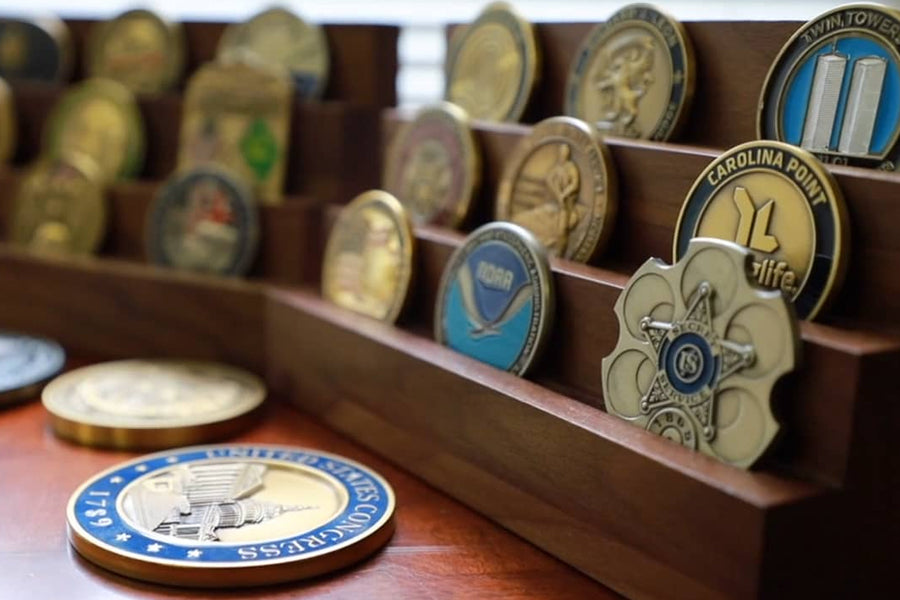 As you experience the process of prototyping your custom challenge coins, one thing to mull over is whether to utilize soft enamel or hard enamel to add hues to your final result. Both options come with their own set of advantages, and indeed, hard enamel is not an obvious choice when it comes to the creation of custom challenge coins, custom military challenge coins, custom army challenge coins, or custom medals. Though you can't say that it should not be utilized more regularly.
While you select between hard and soft enamel coins, one of the most prominent things to remember is that you are not opting between two unique sets of colors or between higher or lower quality shades. The vibe of the hues of your custom challenge coins will remain the same regardless of which alternative you pick.
What is soft enamel coin?
The process of soft enamel involves gushing colored enamel into the bits of your coin or pin before drying it with a heat lamp. You will notice all the subtleties of the coin as the raised zones will be uplifted than the enamel; during the process.
Soft enamel plays a vital role in creating custom challenge coins because patterns can be produced in a 3D process. While placing hard enamel on a 3D image is not possible; because when the coin is polished or stoned, the 3D design will get impacted as well.
You don't stone or polish soft enamel coins, so it cannot occur with soft enamel coins. Soft enamel coins are mostly used to make an item look more practical. If you apply soft enamels properly, then it will give you a realistic look as if the object is there.
Do not judge a book by its cover. Soft enamel does not feel soft when you touch it. It is an industry term that refers to the color-filled process utilized to make the custom military challenge coins, custom army challenge coins, custom challenge coins with no minimum order requirement.
Recessed zones of the coins are loaded up with fluid enamel by using a small needle and are encircled by raised metal to contain the enamel accurately. Thereafter, the custom challenge coins are prepared for wrapping and conveyance.
If you want to feel the layered structure of soft enamel coins, then you should try grazing your fingers over those custom challenge coins.

What is hard enamel coin?
This process is a subsidiary of the Cloisonné finishing technique, which was previously used by ancient Chinese custom lapel pin makers. Custom challenge coins are shaped from a mold, which carves your plan into metal or brass. This carving engraves your specific patterns into the metal and shapes the state of the coin. Raised and recessed regions are made by this carving process. The recessed area receives the color (if your coins need shading in the patterns). The hard enamel technique fills these recessed areas to a level that is flush with the raised sections. The coins are then heated at a high temperature and afterward polished with a unique wheel that ensures the colors and metal are flush. Eventually, the custom challenge coin's surface is sparkling and smooth - the raised and recessed sections are not present; at this point.
Whether you are developing custom medals, custom military challenge coins, or any other custom army challenge coins, raised areas will provide them a texture that will make their look more appealing to many people. Creators make these coins by using a mold. This process allows a pattern to be etched onto the surface of the coin. We finish the process by baking those coins and then polishing them to near perfection.

Usage of hard enamel coins
If you want a color filled with a solid pigment option that has a high-quality and smooth metal surface with intense polishing and flashy colors, then you should opt for a custom hard enamel coin.
Custom hard enamel coins are long-lasting, too. Vibrant colors on them stay for many years. If you want to collect precious custom challenge coins, then opt for a custom hard enamel coin. It is an excellent choice.
Custom hard enamel coins are more elegant and orderly due to their inventive appearance.
Custom hard enamel coins are the perfect choice for the creation of custom military challenge coins, custom army challenge coins, custom medals for the navy and air force as well because they are durable and high-quality.

Usage of soft enamel coins
The most popular option for customers who want custom pieces at an affordable price is soft enamel coins. Soft enamel coins look more layered as the color fill of it is a liquid pigment, and colored areas are fewer than the metal parts of the piece.
When you look at the soft enamel coin, you will feel that between raised metal and a recessed colored are, the colored parts look more attractive, vivid, bright, and sparkling under the light.
Customers will get many options of shapes and sizes to select from. All of these reasons make it an excellent resource for custom options. Plus, there is a possibility of adding an optional epoxy coating, if you desire.

Which is better? Soft enamel or hard enamel coin?
Choices are always tough for people. The fear of picking the wrong option and the confusion of knowing the half-truths about everything make it even harder. So, it is understandable if you all are getting confused between soft enamel coins and hard enamel coins. Each of these two procedures has its own pros and cons. Both of them have distinctive features. So let's dig deep to check the following points that will help us make a good choice between them.

Cost
Custom lapel pins created using soft enamel cost lesser than those which include hard enamel. Implementing hard enamel is complicating; it requires more labor as its production process is very rigorous. This intensive production process makes hard enamel costlier than soft enamel. The costs associated with the production process of hard enamel are unavoidable.

Detail
The difference between both of these options is minor. Soft enamel pins usually give a crystal clear display, slightly more accurate and realistic pictures. Since hard enamel pins are cleaned several times, their bare edges can turn out to be some degree more adjusted and spread out.

Elegance
Custom lapel pins or custom medals made utilizing modern hard enamel processes can intently mirror the outcomes accomplished through traditional cloisonné strategies. You will find soft enamel pins or coins attractive enough if they are appropriately designed and created, still it will not look as polished and elegant enough compared to the hard enamel counterparts.

Durability
As the name suggests, hard enamels are inherently scratch-resistant and durable than soft ones. But, you can cover custom medals, custom lapel pins, or custom challenge coins made with soft enamel in epoxy that secures them against any damage.

Texture
An exposed soft enamel custom lapel pins will have a surface those outcomes from the distinction in tallness between its painted bits and the metallic edges between them. Since the areas to be colored on hard enamel custom lapel pins are polished and afterward cleaned down in the wake relieving, a much smoother look and feel results. At the point when soft enamel coins or pins are shrouded in epoxy, the perfection of that surface will replace the typical surface.
Both soft and hard enamels can be utilized to create attractive and appealing custom lapel pins, custom medals, and custom coins. When you understand how each process works and what are the typical benefits of each process will help you choose justly.

Conclusion
It is totally up to you whether you select a soft or hard enamel coin. As per the factors discussed above, many people will prefer soft enamel coins because they are affordable and gives you a feeling of authenticity and reality, while some people will fancy the smooth surface and durability of hard enamel coins.
If you are looking for good custom challenge coins, custom medals, or custom lapel pins, then, allow us to help you as we have many options of custom military challenge coins, custom army challenge coins, and many other custom challenge coins with no minimum order limit. If you want to create something special for you or your team, then visit EverLighten, who are experts in customized products.
We offer quality control inspections to ensure all customers adore their custom challenge coins, custom medals, custom lapel pins, and many other customized products. We help you transform your favorite products into attractive set pieces with the usage of splendiferous technology and sincerity in craftsmanship.
If you are still unable to make up your mind and not sure about picking the right enamels for your coins, medals, or pins, do visit EverLighten. Your all queries will be resolved, and you will have your dream custom challenge coin or custom medal or custom lapel pin in reality. So, what are you waiting for? Begin your journey of customization now.