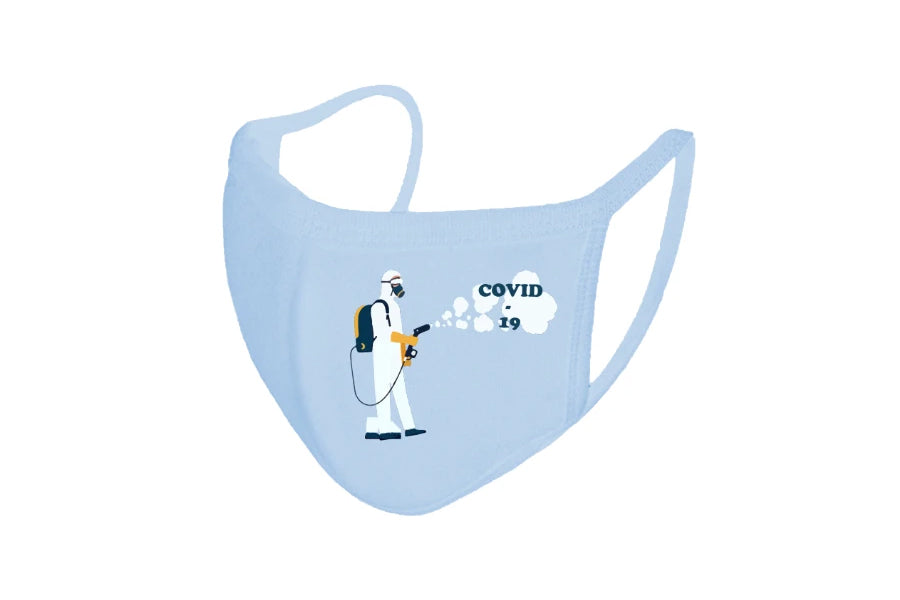 When and Why Should You Wear Masks?


Although there is conflicting advice circulating in the media, the consensus view among experts could be summed up as follows:
"Having some facial protection is better than having none at all."
Wearing a certified medical mask will bring real benefits because it prevents you from causing droplets to spread (for example, by coughing or sneezing). If you suspect that you may be ill, it is recommended to cover your face in public to prevent infectious droplets from falling on nearby people or surfaces that you frequently touch.
Meanwhile, a respirator mask can protect the wearer from hazardous particles when they're breathing the air in polluted environments.
How to Use a Mask Properly
Both respiratory masks and surgical masks should be discarded once they've become wet, dirty or damaged. Exercising strict care when removing the mask is crucial, especially if it's being used to combat infection.
You should remove any mask by its ties/bands, preferably using gloves, and avoiding contact with the front. Once removed the mask should be discarded, together with the gloves if used.
Wearing masks can be effective in disease control only when combined with social distancing, as well as frequent hand washing and the use of disposable gloves where necessary. Wherever infection is a risk, you should make every effort to avoid touching your face.
Please note: All the guidelines provided above relate to certified masks only. For mask wearing to be effective, informed and responsible use on the wearer's part is essential.
Important message from CanvasDiscount.com: The following product has not been scientifically tested or in any way certified for medical use, and should not be considered personal protective equipment. 
With recent events and the omnipresent global issue of air pollution in mind, Everlighten.com launched a new product-Custom Face Mask. Unlike certified masks, our new masks are not designed or produced for practical purposes, but it is better than wearing nothing
"However, it makes a bold statement of resilience and solidarity in the face of crisis."
Custom-made face masks give us the chance to keep things creative and playful in times when this is more important than ever.
Observe all safety measures during our manufacturing process. Our company is committed to ensuring perfect safety for workers, their families, and our customers.
Most importantly, our personalized masks symbolize unity with the international community. Wearing an obvious signal indicates that you are working hard and working in a stylish way.
 We urge you to follow the safety guidelines and medical recommendations issued by local healthcare professionals. Custom masks can only provide surface protection and should not be considered as an effective replacement for certified masks.
Want to buy custom face masks online? Non-certified masks provide limited protection but they can help stop you spreading disease.
Customized masks should not be confused with certified medical masks (such as surgical masks and N95 respirators). However, there is some evidence that non-medical fabric masks can help you prevent the spread of disease.
If you want to buy a custom mask, you should also pay attention to other things before buying. In this article, we will introduce the following.
2. Are fabric face masks effective?
3. How to make your personalized face mask
Our customized masks are non-medical cloth masks that have not been medically tested. The masks we sell are custom printed like our other products. You can choose a variety of colors or vivid designs, and even upload your own photos to print them on the mask.

The front of the mask is personalized according to your printing options. We offer a variety of designs, but you can also upload any photos in your collection. This means that your mask design is limited only by your imagination.
The personalized face mask is reusable - regular machine washing is essential to ensure good hygiene.
To keep the photo print in prime condition, the mask should be washed on the warm cycle (up to 140°F).
Hand-sewn in our factories, our custom face masks are produced under strict quality control, and both the product and the manufacturing process follow strict safety rules. But the question remains – do these masks have any protective properties?
Are Fabric Masks Effective?
Due to the current events, face masks have become a subject of heated public discussion, with different camps arguing for or against their effectiveness. Some urge the public to use any facial covering available, while others maintain that mask-wearing is ineffective or even counterproductive. What are we to make of this? Well, the latest safety guidelines issued by the CDC (Centers for Disease Control and Prevention) state:
"CDC recommends wearing cloth face coverings in public settings where other social distancing measures are difficult to maintain."
Now, it's very important to note that "cloth face coverings" are not being placed in the same category as medical face masks. Why is this?
Masks are worn to prevent two forms of disease transmission: airborne transmission or droplet transmission. Different kinds of masks have different levels of effectiveness against these two forms. Non-medical masks will not offer the same protection as masks which have been scientifically certified.
Let's look at these two forms of transmission in more detail.
Airborne Transmission
Airborne (also known as "aerosolized") transmission is caused by minuscule particles of a pathogen – these can float in the air for minutes or even hours.
Only medical-standard respirators (for example N95 masks) can prevent airborne transmission.
Surgical masks should not be considered useful in preventing this, because the pathogen particles are small enough to easily pass through the edges of the mask or even through the mask material itself.
And needless to say, non-medical masks will offer no protection at all against airborne transmission.
Droplet Transmission
Droplet transmission occurs when respiratory moisture droplets (e.g. saliva or mucus) containing the disease are expelled from the mouth or nose of a person infected – either traveling directly to another person or landing on a surface which is then touched.
Non-medical masks should not be considered effective in protecting the wearer from a droplet infection. Unlike surgical masks, they have not been scientifically tested to ensure adequate coverage, and the materials themselves can serve as effective anti-drip masks.
However, as with surgical masks, non-medical masks could be useful in preventing the wearer causing droplet infection if they are already sick. Any facial covering which shields the mouth and nose should reduce droplet spread when the wearer is coughing, sneezing or simply talking.
Put simply, wearing a cloth mask can help you keep others safe. Others can help to keep you safe if they wear cloth masks themselves.
Important Proviso
There is some evidence that wearing a mask can itself be a health risk if it leads the wearer to touch their face more than they otherwise would. Wearing a mask can be counterproductive if you don't exercise great care when using it – always washing your hands before applying the mask, and touching only the straps when removing it.
It should also go without saying that no mask can be a substitute for a responsible safety routine. Social distancing and frequent hand-washing remain the best methods of preventing viral transmission, and wearing a mask certainly cannot be advised if it leads to any relaxation of these measures.
Final Word
As stated on the CDC website, cloth masks cannot replace surgical masks or N95 gas masks.
However, medical staff have a great demand for masks, and they are at risk of infectious diseases while working. This means that the rest of us should avoid the use of medical-grade personal protective equipment to avoid exacerbating the current shortage.
Custom face masks and other uncertified face masks are viable alternatives to this certified device-although they are not considered essential, they are recommended. At least, wearing any kind of mask can indicate that you are seriously preventing disease and are ready to make every effort to protect public health.
For more info, please visit our website www.everlighten.com.
Disclaimer: Custom face masks from Everlighten.com have not been scientifically tested and are not certified or intended for medical use.