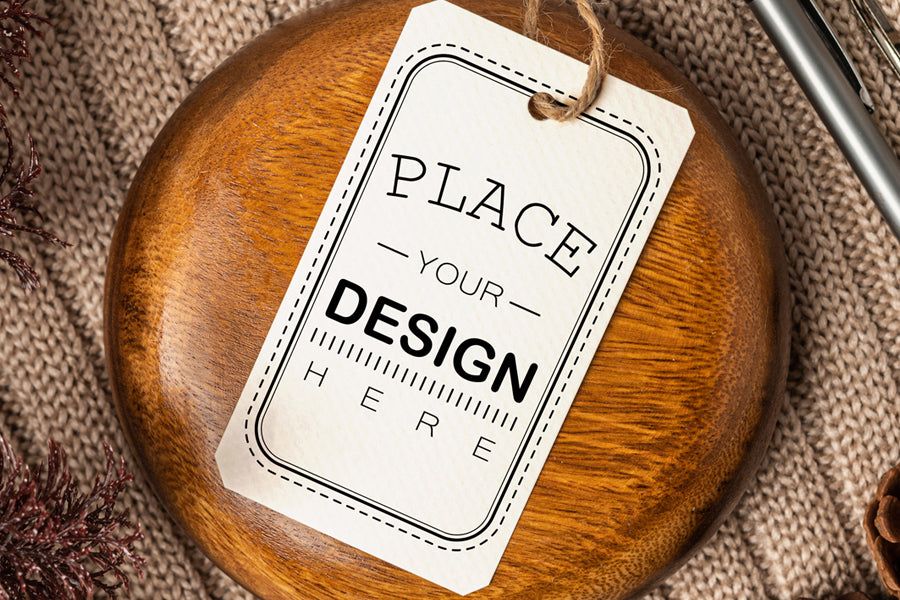 How to Add Value to Your Brand with
Custom Hang Tags?
Did you have trouble selling your products and building your brand? The key to solving this problem lies in custom hang tags. A prettier custom hang tag will attract customer's eyes because what they look at firstly in the shop is custom hang tags.  As brand ambassadors, custom hang tags play an important role in marketing. This is why you should give full consideration on every detail of custom hang tags from color and shape to the images and information you put on.
Custom hang tags are small tags hanging on an item with information printed on, such as descriptions of commodity, prize and other details. Sizes vary, but a square or rectangle is the most common.
They are commonly seen in apparel, telling people how large and how much it is. Besides, there are other ways to use them for individual and business purposes including custom jewelry tags, product hang tags and more.
Custom Hang tags are a simple and effective approach to balance packaging and mark for any item whether you're selling accessories, food products, and cloths. Custom hang labels can finish the whole look of your item. It can be used as price tags and used to show clients an item's care guidelines. Here are a lot of great ways to use a custom hang tag to your advantage and build your brand's reputation.
Clothing Hang Tags
Clothing hang tags are the most popular usage, which are mostly for retail brands. As clothing hang tags will get thrown away shortly after purchasing, it is a must for retailers to design a special and eye-catching custom hang tag to get attention.
Product Tags
Perfect product tags are helpful for every item sold online or mortar business. It is a great way to get attention to invest in product tags before getting thrown away, such as their size and finish.  Even if your products don't contain a tag, it may steer your competitors because of adding one.
Personalized Party or Wedding Favors
It may be very meaningful to add a custom hang tag to a party or wedding favors. As a memento, custom hang tags can help you remember how much fun the party or the wedding is.
Custom Gift Tags
If you intend to prepare lots of gifts for your employees, custom hang tags are a perfect choice for you. Personalized hang tags with your wishes and company's information will show how much you care about your employees. There are some common industries using custom hang tags as gifts, such as hospitality and real estate.
Custom Hang Tags are Available from Small to Super Size
Select from a wide range of square or rectangular shapes. Some standard sizes of custom hang tags are as follows:
▸ 5" x 2.5" gives additional space in a square-shaped tag. It is ideal for moderate designs featuring a logo or key pieces of organization information.
▸ 2" x 4" is longer than the primary standard size and works for label designs with level or vertical directions.
▸ 2" x 3.5" has the same measurements from a standard business card. This size is perfect for convenient, rectangular custom tags.

Each finish offers a particular experience as the client chooses to make that last buy. There are three features of custom hang tags to your brand logo or organization information further with our best coatings. Each of them can make your brand outstanding.
▸ Reflexive UV: It has a more prominent shine than gloss and adds more profundity to each design component. It is additionally abrasion and synthetic safe.
▸ Gloss:It makes every shading and detail stand apart with its dynamic shine. Gloss offers the hang label a mirror-like completion that can help flaunt the strength of dress like pants, a cotton shirt, or a waterproof coat.
▸ Matte: It gives your label design a complex look that is ideal for an extravagance brand or a rich, understated label design. The stifled appearance makes it ideal for lengthier text and quieted unbiased color.
You can use custom hang tags to show your company's information or your brand logo. EverLighten is capable to design the top quality hang tags according to the customer's requirement. We can offer different custom hang tags with various designs, information, sizes, and colors at a pocket-friendly price.
There are four steps for you to make your own custom hang tags.
Step 1: You need to provide your logo, design, or information for custom hang tags.
Step 2: You need to make a payment for your order.
Step 3: We will send you a sample for approval.
Step 4: After approval, we will design your hang tags. You will get your order as soon as possible. Normally, the sample time is about 2 days. We require 5 days for production and delivery time is about 3 days. So you can get your order within 10-12 days and it is the maximum time.
We realize that perfect labels are both functional and eye-getting. We endeavor to offer the greatest printing on the most unique paper stocks, in a wide scope of shapes and sizes to suit each item both little and large. So what are you waiting for? Contact us right now.
For more info, please visit our website www.everlighten.com or directly email us at service@everlighten.com.