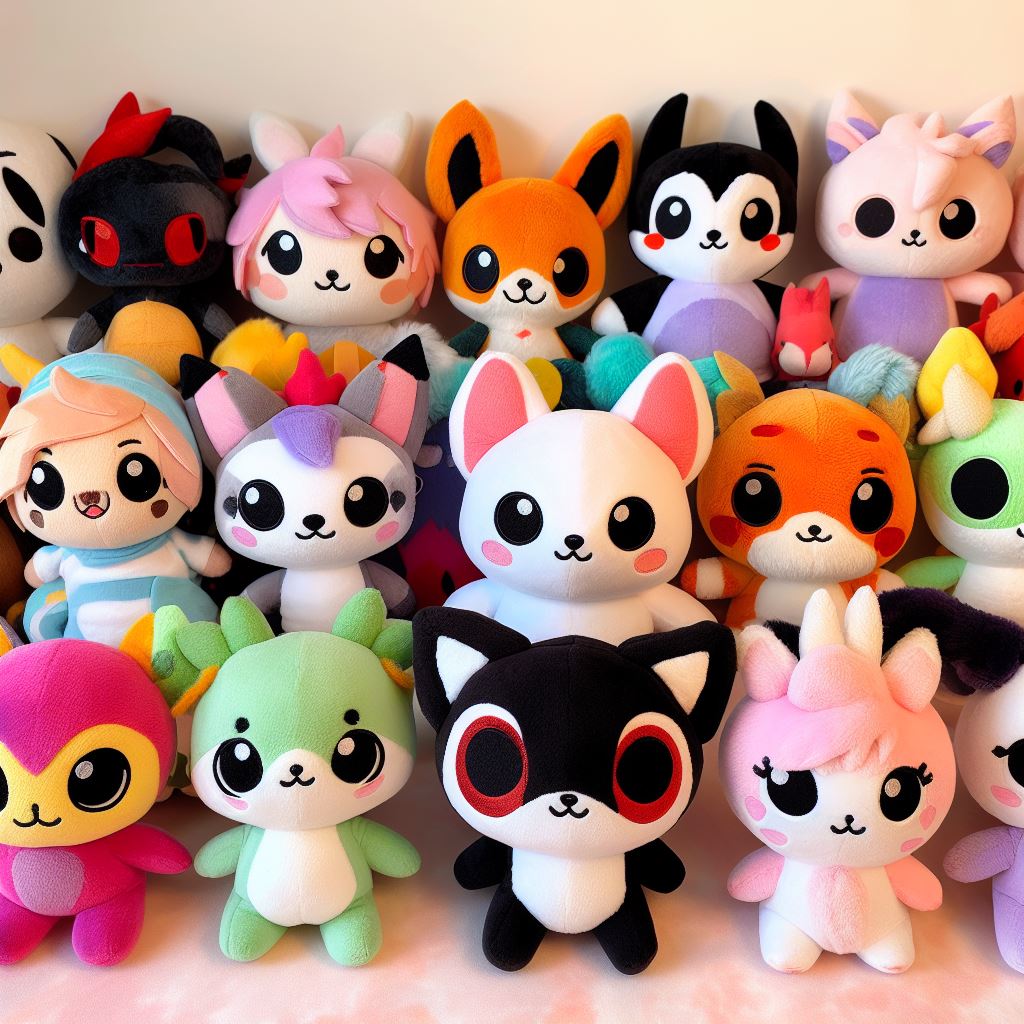 Turn Your Imagination into Reality with Expert Guidance
Let's start with a personal tale. I had a beloved plush bunny named Flopsy. With his worn-out fur and slightly lopsided ears, he was my faithful companion through countless adventures and bedtime stories. Even now, the mere sight of a well-worn plush toy brings back a flood of cherished memories, highlighting the enduring emotional connection we often form with these cuddly companions.
In today's rapidly evolving consumer landscape, the demand for personalized and unique products has given rise to custom plush toys. These bespoke creations, intricately crafted to embody individual preferences, hold a special place in modern culture. From personalized gifts that celebrate cherished memories to branded merchandise that fosters connections with a company, custom plush toys have become more than just playthings; they are symbolic representations of our identities and narratives, weaving themselves into the fabric of contemporary life. We will discuss the art and intricacies of commissioning these dream-like plush toys, exploring the journey from conception to creation and unveiling the magic that makes each custom plush toy a tangible reflection of imagination and heartfelt emotion.
What is a Custom Plush Toy Commission?
A custom plush toy commission refers to collaborating with skilled artisans or manufacturers to create a unique and personalized plush toy tailored to specific preferences, designs, and requirements. Unlike ready-made plush toys available in the market, custom plush toy commissions materialize their imaginative concepts into tangible, one-of-a-kind products that reflect their individuality and storytelling.
Significance of Custom Plush Toy Commissions
Custom plush toy commissions bridge the gap between imagination and reality, enabling individuals, businesses, and organizations to bring their creative visions to life with intricately crafted and customized plush toys. By facilitating a collaborative and tailored approach to plush toy creation, commissions serve as platforms for self-expression, brand representation, and the manifestation of sentimental connections, fostering a sense of ownership and emotional resonance with the final product.
How Can We Use Custom Plush Toys? 
Branding:

In the realm of marketing and

brand promotion

, custom plush toys serve as engaging and memorable tools for building lasting connections with a target audience. Whether it's a whimsical representation of a company mascot or a miniature version of a flagship product, these plush toys can leave a lasting impression, fostering brand recognition and loyalty among consumers of all ages.

Gifting:

The charm of a custom plush toy as a

gift

lies in its ability to encapsulate the essence of a shared experience or a cherished memory. From commemorating a special event to celebrating a milestone, these personalized creations evoke heartfelt emotions and tangible tokens of affection and appreciation. Custom plush toys transform ordinary moments into cherished keepsakes, making them ideal gifts for friends, family, or colleagues.

Personal Enjoyment:

Beyond their practical purposes, custom plush toys offer comfort and joy, transcending age barriers and igniting a sense of childlike wonder within us. Whether it's a recreation of a beloved fictional character or an imaginative creation born from the depths of one's mind, these plush toys transport us to realms of nostalgia and fantasy, providing solace and amusement amid our daily routines.
From Imagination to Creation: The Custom Plush Toy Journey
Conceptualization:

The journey begins with an initial brainstorming phase where we explore ideas, themes, and specific design elements. Clients articulate their vision, providing details on the intended look, feel, and purpose of the plush toy. This stage sets the foundation for the subsequent creative process.

Design Development:

Collaborating closely with the client, designers translate conceptual ideas into tangible designs. Sketches, digital renderings, and 3D models capture the essence of the envisioned plush toy, ensuring that every intricate detail is meticulously incorporated and refined to meet the client's expectations.

Prototype Creation:

After finalizing the design, the prototype creation phase commences. Skilled artisans and manufacturers bring the design to life, using premium materials, cutting-edge techniques, and intricate craftsmanship to produce a preliminary version of the custom plush toy. This prototype is a tangible representation of the final product, allowing for crucial adjustments and modifications as needed.

Client Feedback and Iteration:

The client is actively involved in the feedback loop, providing insights and suggestions based on the prototype. This collaborative exchange ensures that the final plush toy aligns perfectly with the client's vision and requirements. Iterative refinements are made to the design, materials, and overall aesthetics, guaranteeing that every aspect of the plush toy resonates with the client's desired outcome.

Manufacturing and Production:

With the design and prototype approved, the manufacturing phase begins. Skilled artisans meticulously execute the production process, sewing, stuffing, and assembling each custom plush toy with precision and care. Quality control measures are implemented at every stage to ensure that the final product adheres to the highest standards of craftsmanship and durability.

Final Inspection and Delivery:

Before delivering to the client, a comprehensive inspection guarantees that each piece meets the predefined specifications and quality benchmarks. Upon passing the inspection, the custom plush toys are packaged with utmost care and attention to detail, ready to embark on their journey into the hands of their eagerly awaiting recipients.
Roles of Designers, Manufacturers, and Clients:
Designers:

Responsible for translating clients' ideas into visually captivating and technically feasible designs, designers play a pivotal role in conceptualizing, sketching, and refining the initial concepts. Their creative expertise and attention to detail help the plush toy design capture the essence of the client's vision while adhering to practical manufacturing constraints.

Manufacturers:

Equipped with specialized skills and industry knowledge, manufacturers bring the designs to life, overseeing the intricate production process from high-quality materials to the meticulous assembly of each plush toy. Their craftsmanship and commitment to precision contribute to the creation of plush toys that are not only visually appealing but also durable and long-lasting

Clients:

Actively engaged throughout the journey, serving as the guiding force behind the creation process, providing valuable insights, feedback, and approvals at various stages. Their clear communication, creative input, and vision for the final product are instrumental in shaping the direction of the custom plush toy, ensuring that the result resonates with their intended purpose and aesthetic preferences.
How Much Does a Custom Plush Toy Commission Cost?
Many factors influence the cost of a custom plush toy commission that contribute to the overall pricing structure. 
Size:

Larger plush toys often require more materials and intricate detailing, resulting in a higher production cost than their smaller counterparts.

Complexity:

The complexity of the design, including intricate patterns, detailed features, and specialized customization, can impact the overall cost due to the increased time, skill, and resources required for execution.

Materials:

The choice of materials, such as premium fabrics, stuffing, and embellishments, can significantly influence the cost, with high-quality materials contributing to a more refined and durable plush toy that may come at a premium price.

Quantity:

Bulk orders or larger quantities of custom plush toys may offer economies of scale, leading to potential cost savings per unit compared to smaller, individual orders.
How Long Does It Take to Get a Custom Plush Toy Made?
The timeline for creating a custom plush toy can vary based on several factors, including the intricacy of the design, the level of customization required, and the specific requirements of the commission. 
Initial Design Discussions and Conceptualization:

This phase involves brainstorming, creativity, and initial design discussions, which can range from a few days to a couple of weeks, depending on the complexity of the client's vision and the level of detail involved in the design.

Design Development and Prototyping:

The creation of detailed designs, digital renderings, and prototypes may take several weeks to a few months, depending on the intricacy of the plush toy, the back-and-forth collaboration between the client and the designer, and any necessary iterations or revisions.

Manufacturing and Production:

The manufacturing process can take several weeks, especially for more complex or large-scale projects, as skilled artisans meticulously sew, stuff, and assemble each plush toy by hand, ensuring that every detail meets the client's specifications and quality standards.

Final Inspection and Delivery:

Once the manufacturing is complete, the manufacturer does a final inspection to ensure the plush toy meets all quality benchmarks. The delivery process, including packaging and shipping, may add a few days to the timeline.
Finding a Reputable Custom Plush Toy Maker
Finding the right custom plush toy maker or company can significantly impact the quality and outcome of your commissioned plush toy. 
Conduct Thorough Research:

Utilize online resources, industry directories, and social media platforms to research and identify a list of potential custom plush toy makers or companies that align with your requirements and preferences.

Evaluate Experience and Expertise:

Look for established artisans or companies with a proven track record and extensive experience creating custom plush toys. A solid history of successful projects and a diverse portfolio indicate their expertise and capabilities.

Read Reviews and Testimonials:

Take the time to read client reviews and testimonials to gauge the overall satisfaction and experiences of previous customers. Pay attention to feedback regarding communication, professionalism, and the quality of the final products.

Assess Portfolio and Sample Work:

Review the portfolio and sample works of potential plush toy makers to assess the quality, attention to detail, and range of customization they offer. It will give you a better understanding of their creative style and capabilities in bringing diverse concepts to life.

Communication and Collaboration:

Prioritize plush toy makers or companies with better communication capabilities and a collaborative approach. Effective communication throughout the commissioning process is crucial for ensuring your vision is understood and translated accurately into the final product.
What Should I Provide When I Commission a Custom Plush Toy?
When commissioning a custom plush toy, providing the following details and materials can help ensure that they portray your vision accurately in the final product:
Reference Images:

Clear and comprehensive reference images or visual aids depicting the desired look, style, and specific details of the plush toy serve as a crucial starting point for the design process.

Specific Design Details:

Outline details, including preferred colors, textures, dimensions, and any unique features or characteristics you wish to incorporate into the plush toy's design.

Branding Requirements (if applicable):

If the custom plush toy is for branding purposes, provide any relevant branding materials, such as logos, taglines, or color schemes, to ensure that the plush toy aligns seamlessly with your brand identity.
Customization Options: Making Your Plush Toy Truly Unique
Material Choices:

Select from a diverse array of high-quality fabrics and materials that not only enhance the plush toy's aesthetic appeal but also contribute to its durability and tactile experience.

Sizes:

Customize the size of your plush toy to suit your preferences, whether you desire a miniature version for convenience or a larger, more huggable rendition for maximum comfort.

Designs and Features:

Tailor the design of your plush toy with intricate detailing, unique patterns, and special features that reflect your personality, interests, or the intended purpose of the plush toy.

Special Features:

Incorporate special features such as embroidered details, accessories, interactive elements, or sound modules to add charm and interactivity to your custom plush toy.
Examples of Highly Customized Plush Toys
Here are some inspirational examples of highly customized plush toys to ignite your creativity and provide a glimpse of the creative possibilities:
A pet custom plush toy.

A themed plush toy collection.

A branded promotional plush toy. 
Incorporating Personal Touches or Branding Elements:
To infuse your custom plush toy with personal touches or branding elements, consider the following suggestions:
Embed personal mementos, such as embroidered initials, significant dates, or heartfelt messages, to evoke sentimental value and create a meaningful connection with the plush toy.

Integrate brand-specific colors, logos, or slogans into the plush toy's design to reinforce brand recognition and foster a sense of brand loyalty and affinity among your target audience.

Explore unique packaging options that showcase your brand identity or incorporate thematic elements that complement the plush toy's design, creating a cohesive and memorable unboxing experience for recipients.
Navigating the Commissioning Process
Effectively communicating your ideas and expectations to the plush toy artisan ensures they portray your vision accurately in the final product. 
Articulate your vision clearly, providing detailed descriptions, sketches, or reference images to convey your design preferences and aesthetic requirements.

Encourage open dialogue and active listening to foster a collaborative environment where the artisan's creative insights and suggestions are valued and integrated into the design process.

Establish a communication channel that allows for timely updates, progress reports, and the seamless exchange of feedback throughout the various stages of the creation process.
Conclusion
As you embark on the exhilarating journey of commissioning your dream plush toy, remember that the process is not just about creating a tangible product but also about cultivating a personal and memorable experience. By collaborating with skilled artisans and embracing the creative nuances of custom plush toy design, you witness the transformation of your imaginative concepts into cherished, one-of-a-kind creations that resonate with your unique story and vision.
At EverLighten, we understand the significance of bringing your ideas to life. With our commitment to excellence and unwavering dedication to craftsmanship, we offer a comprehensive suite of services that cater to your custom plush toy needs, ensuring a seamless and enjoyable commissioning process from start to finish.
Connect with EverLighten today to experience the following benefits:
100% Customization:

Tailor every aspect of your plush toy to reflect your distinct style and personality.

100% Quality Check:

Rest assured that every plush toy undergoes rigorous quality checks to meet the highest standards of craftsmanship and durability.

Free Design Help:

Take advantage of our expert design assistance to refine your ideas and bring your vision to life with precision and creativity.

Worldwide Delivery:

Enjoy the convenience of global delivery, allowing you to receive your custom plush toy wherever you are.

24*7 Support:

Access our dedicated support team round the clock for any queries, updates, or guidance throughout the commissioning process.

Unlimited Revisions:

Collaborate with us to make unlimited revisions, ensuring that every detail of your custom plush toy surpasses your expectations.

Low MOQ:

Benefit from our low minimum order quantity, enabling you to commission custom plush toys according to your specific requirements and preferences without excessive constraints.
FAQs: 
How to make a custom plush toy?
Making a custom plush toy can be a fun and rewarding experience. 
Design your plush toy:

Create a pattern

Cut out the fabric pieces

Sew the pieces together

Stuff the plush toy

Add details

Finish and inspect
What makes a good plush toy?
A quality plush toy should be
Soft and cuddly

Durable and well-made

Safe and non-toxic

Visually appealing

Age-appropriate
Is it hard to make a plushie?
Making a plushie can range from easy to challenging per the complexity of the design and your skills. Beginners with basic knowledge can make simple plushies with basic shapes and minimal details. However, more intricate designs with multiple pieces, delicate details, and elaborate features may require more advanced techniques and experience.